<![if !vml]>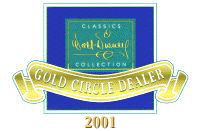 <![endif]>
A PREFERRED GALLERY OF ANIMATION ART FOR THE WALT DISNEY COMPANY

Have you ever been to Disneyland? Then you know how truly magical it can be. The Enchanted Castle - offering licensed Disney products and animation art - captures the memories and the magic as we bring to you the best of the Disney legacy. We offer you a chance to step back in time and capture the magic once again with all those wonderful Disney characters that touched us, took a hold of our heartstrings, and carried us off to never never land.............

Tina Olson, owner of The Enchanted Castle, believes the lyrics of Jiminy Cricket when he sings, "When you wish upon a star, makes no difference who you are, anything your heart desires will come to you….your dreams come true." Those dreams came true for Tina Olson, who opened up her first Disney collectible store The Enchanted Cottage, in 1989 in a 200 square-foot space in Modesto, California. In 1990, the store moved to Ceres, California to a 500 square-foot store and the name changed to The Enchanted Castle. The magic continued for Tina and her dreams got better all the time. In 1991 she expanded the store again to 1500 square-feet. In addition, by 1993 her Ceres location had expanded to 3,000 square-feet

In 1994 Tina had become a recognized authority on animation art by Disney Art Editions and The Enchanted Castle was designated a Walt Disney Preferred Gallery. For The Enchanted Castle, Mickey is the mouse that roared-"Success!"

As a Preferred Gallery, The Enchanted Castle is one of less than 80 Preferred Galleries in the nation to offer newly released production and limited-edition cel art from the Walt Disney Company. Reflecting this exploding interest in this art form The Enchanted Castle, is thrilled to bring the excitement of Disney artwork to our gallery. Disney has always set the standard for animation art and they continue to advance the art form with artistic and technological breakthroughs. As a Preferred Gallery, our clients will have access to the most memorable animation from Disney classics and today's hits.

By 1995, her domain expanded to two Enchanted Castles. The 3,000 square-foot store in Ceres California and a 5,000 square- foot store in Modesto California. After the loss of her mother who was born in Beatrice, Nebraska, she packed up her two stores in 2002, loaded them into three semi trucks and moved the stores to Omaha, Nebraska. The store is now located in Westroads mall in a suite that was previously a Disney Store. For Tina, there is always a new goal, adventure and challenge to reach for experience and conquer. Her goal now is to share the magic of Disney with the Midwest.

The Enchanted Castle specializes in licensed Disney products and is one of the country's best sources for Disney collectibles. We pride ourselves on our customer service and personal touch, which has always been our number one priority. We have clients all across the country and around the world that have become part of our Disney family.

We would like to invite you to come share the magic with us, let us take you back to the memories of your childhood where the world of Disney will show you that it is not just for children, but for the child in all of us.

We welcome any comments and suggestions. Please send them to ecastle@theenchantedcastle.com

All orders will ship within 2-6 business days if items are in stock.

Orders over $150.00 ( tax not included if applicable) will be shipped UPS Ground or Fed-Ex Ground FREE of charge within the Continental U.S. Any orders under $150.00 will ship UPS or Fed-EX ground and standard shipping charges will be applied.

Orders going to Hawaii, Alaska and Puerto Rico will ship United States Postal Service Priority. Sometimes USPS shipping costs are more than what is quoted on the order. If this is the case you will be notified via email.

All orders going to Canada will be shipped via USPS. You have a choice between Express (2-3 days delivery), Airmail (4-7 days delivery) or surface (4-6 weeks delivery). Once we receive your order, we will email you with the shipping costs for each choice, and ask for your preference.

We accept only credit cards for International orders shipping charges. ( Visa, Mastercard, Discover) Shipping will be applied to your credit card after the item ships. We do not charge a handling fee; you will be charged the exact amount charged by the U.S. Mail Service. We will then mail you a separate receipt. We ship by insured U.S. Express Air Mail -- this is the fastest and safest way to ship our quality products. Shipping cost for International orders will vary from country to country along with the size and weight of each package. We can give you a rough estimate of shipping costs if you request it but actual charges are unknown until the product actually ships out.

The outer box size limit for International shipping with the U.S. Mail Service is 79 inches total. The box is measured by girth plus length for total inches. Most all of our products qualify for international shipping. Some orders of multiple items may need to be packed in several boxes. We make every effort to use the least amount of boxes possible to cut down on shipping costs. Orders will be marked "FRAGILE" and packed with proper quality cushioned material. For any damages, you must save the boxes and packaging for inspection. A claim will be filed and a replacement will be shipped out.